If you are looking for all the sites like Groupon in your city, go HERE and pick your city from the drop-down selector.
How many daily deal sites like Groupon are there exactly?  Well nobody knows for sure because there are new sites popping up and closing every day – mostly closing lately.  Below we have put together a list of all the top sites like Groupon and a list of some others that have deals in multiple cities.  There are also lots of successful sites that only operate in one city.  Since Groupon launched in November 2008 and soon thereafter started minting money at unprecedented rates,  literally hundreds of Groupon like sites have been created to copy their very successful formula.
At Daily Dibs we attempt to bring all the BEST daily deal sites like Groupon in each city together in one place.  If you want them all delivered in a single email, just subscribe.
Top Sites Like Groupon: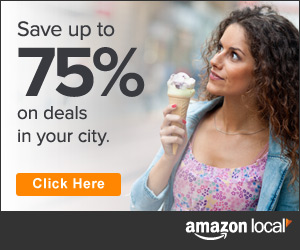 Amazon Local – The Amazon local deals are often sold by LivingSocial, but doesn't stop them from having great local deals that are not available on LivingSocial.  They also usually have a good selection of deals for national online retailers.
LivingSocial  – These guys are going toe to toe with Groupon in over 100 markets nationwide.  LivingSocial is to Groupon as Pepsi is to Coke.  You can also check for a Living Social Promo Code before you purchase.  They just started to offer them.
SweetJack – A venture between radio behemoths Clear Channel and Cumulus.  Rapidly expanded in 2012 and well positioned for 2013.  The deals are usually excellent as they have some leverage with their advertisers through their radio connections.
DealChicken.com – A Gannett company that has recently expanded to over 20 cities nationwide.  You can expect good customer service because these deals are offered by a large media company in the area.
Half Off Depot – Promo Code – Currently live in six cities: Atlanta, Charlotte, Knoxville, Nashville, Orlando, and Tampa.  Though they aren't in tons of cities, they are have consistently great deals in the cities they are in.


Plum District  – Promo Code -The leader in family focused daily deals.  If you are looking for family deals, you should try out FamGrab.com an aggregator of family deals.
TravelZoo Local Deals – The popular discount travel website has run local deals in over 20 cities nationwide.  They do a great job of getting deals at desirable destinations like upscale restaurants and spas.
Dealfind – Grew rapidly in 2012 and was considered #3 independent behind Groupon and LivingSocial, but their deal quality and volume has fallen off in most American cities.  They are number one in Canada.
Gilt City – Part of the Gilt brand.  Focus on discounts to upscale establishments
GetMyPerks.com – In 20 plus markets through radio station partnerships with parent company Entercom.
Eversave – Promo Code -Currently running daily deals in 12 cities and growing.  They are based in Boston with their biggest audience in Boston and Philly.
KGB Deals – KGB deals is in 12 cities and is continuing to expand.
ScoutMob – Initially known for their mobile app.  They have expanded from local deals to offer deals from the best independent makers & merchants. You can buy handmade goodness / explore local deals + under-the-radar events near you.
CBS Local Offers – Part of the CBS interactive family, CBS Local is now running deals in over 15 cities.   Each of the sites is partnered with traditional local CBS media properties like radio and television.
We think that these are the local daily deal sites with the greatest footprint and influence in the local markets.  As you can see, LivingSocial and Groupon are by far the biggest sites – nobody else is really even close.


More Sites Like Groupon:
In addition to the top sites listed above, there are several others worth mentioning that have deals in multiple cities:
Mamapedia Sweet Deals – An extension of the existing Mamapedia website.  Deals are focused on the parent audience.
Seize the Deal (website) – In 20+ cities – most of which are small cities.
Tippr – Merged with Crowd Savings and now part of nCrowd.  They don't appear to have local deals any longer
Crowd Savings – Merged with Half Off Depot to form nCrowd.  I think their local deals are now offered through Half Off Depot
CLOSED – Yollar (website)- A Belo Company brand that is partnered with Belo traditional local media properties.
CLOSED – DailyDealster (website)- Recently merged with Half Off Depot.  Live in over 4o cities, DailyDealster initially partnered with Adility for most of their deals.  Adility supplies to several other similar deal site not listed here.
CLOSED – YellowPages.com Deals
CLOSED – Dealswarm (website) – A Cox Media Group Company – in multiple cities
CLOSED – OpenTable (website)- They run one restaurant deal a week in approximately 10 cities.
CLOSED – BuyWithMe (website)- BuyWithMe is currently in 11 cities and continuing to expand.  They are based in New York City and are venture backed.
CLOSED – BoomSteet (website) – Currently in 3 cites
CLOSED – ValPak Deals (website) – Part of the Valpak company
CLOSED – DealPop (website) – Associated with WhitePages.com
CLOSED – AOL – wow.com – Have been live for several months now, but are only offering deals in 3 cities.
It should also be noted that in virtually every city the local newspaper is now also part of the daily deal economy.
Again, to see all the top providers in any city, just go to Daily Dibs and pick the city you want to see.
We know there are lots more sites like Groupon that could be added to this list.  Hopefully we have gotten all the best ones and a few more you may not have known about.
If you like daily deals you can check out a couple other of our lists.  All the best daily deal sites (like Woot and Groupon).  And just the list of sites like Woot.

Similar Posts: