OpenTable has now joined the ever growing list of sites that are offering some sort of daily deal or deals of the day.  The OpenTable deals are, of course, focused on restaurants.  The OpenTable daily deal program has some slight differences than other similar programs.  In this review we will tell you how the OpenTable deals program works and how well it is performing for them.
OpenTable's Deals Are Not Daily
The first obvious difference in the way OpenTable is approaching daily deals is that they aren't actually doing daily deals.  The Open Table deals, now active in 9 cities, are offered for a single day only, but they are only offered once weekly.
Each Tuesday evening, OpenTable reveals the deal that will be offered the following day (Wednesday).  The deal will then be available for the entire day Wednesday.  At midnight on Wednesday the deal will expire and no longer be available.  After the deal expires, OpenTable will then preview next week's deal as what they call a "Secret Spotlight".  Basically, they give a hint about what restaurant will be featured next, and allow users to guess the restaurant.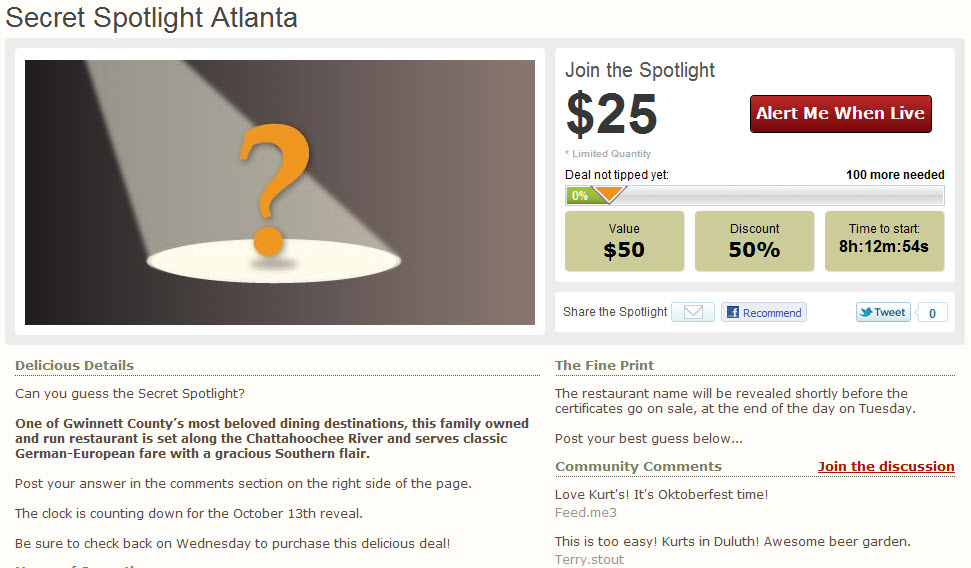 How Good and Unique Are The Deals?
Every OpenTable deal that we have seen has been the same $25 for $50.  We also took a look at the restaurants they were signing up in Atlanta and compared them to Groupon.
We looked at 6 restaurant deals they have offered in Atlanta over the past 2 months.  Of the 6 deals, Groupon had previously done a deal at 3 of them – the other 3 have not yet appeared on Groupon.  Two of the 3 deals that appeared on Groupon, one in March of 2010 and one in June of 2009, were both slightly better on Groupon.  One was $15 for $35 and the other was $15 for $40.
How Well is OpenTable Spotlight Performing?
I think that by any measure you would have to say that it is performing quite well.  The number of deals sold for the 6 deals we looked at averaged 640, with the top deal selling 1282.  At a 50% commission, that is an average of $8,000 in revenue per deal per week for a total of $416,000 in annual revenues for OpenTable in Atlanta.  When you assume that their distribution list will only continue to grow and their number of cities will grow, the revenue amounts will be substantial.  This is a no-brainer business for OpenTable to be in while it remains hot.
If you are a DailyDibs subscriber, we will deliver you the OpenTable deals each Wednesday.
Here is a list of active OpenTable Spotlight Cities:
Similar Posts: