If you do a search on Google for "Groupon Promo Code" right now, you will see lots of results showing a coupon code for $5 off a purchase of $20 or more (or 25%).  But, the problem is this deal was extremely limited and has long since expired.
The only way to get any sort of additional savings on Groupon right now is to use their friend referral program. Using their referral program you can actually get $10 to use on Groupon for each new customer you refer to them.  It isn't a promo code, but it is something.
We have another page on our site that explains all the different ways you can save at Groupon and if there is ever a real Groupon promo code we will add it there.
What is showing up in the Google results was a deal that apparently was offered through Savings.com and was then promoted by many of the Savings.com affiliates.  Here is how that deal worked:
Go to Savings.com and you will see a deal that looks like this: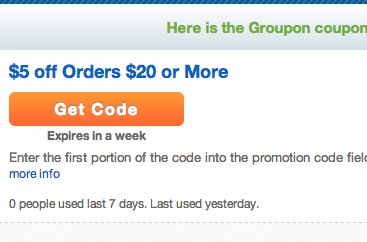 Then you hit "Get Code" and then you will get this with 2 unique pin numbers:

What you do next is go to Groupon and enter the PIN numbers during the checkout process which looks like this:

Some of the sites we read said there were 5,000 of these codes available, but  as we mentioned already have long since expired.

Similar Posts: